The Rise & Fall Of Fashion Brand Von Dutch Gets Docuseries Treatment At Hulu From IPC
By Peter White
EXCLUSIVE: Von Dutch, the 2000s fashion brand known for its trucker hats worn by the likes of Britney Spears, Paris Hilton and Justin Timberlake, is getting the documentary series treatment.
Hulu has ordered a three-part series based on the story of the brand from the Intellectual Property Corporation, the Industrial Media-owned producer behind YouTube's This Is Paris.
The series chronicles the true story behind the rise and fall of the iconic 2000s fashion brand. In this character-driven saga, Venice Beach surfers, gangsters, European fashionistas and Hollywood movers and shakers all vie for control of the infamous brand — pushing it from obscurity to one of the most recognizable labels on Earth. After a decade of backstabbing, greed and bloodshed, their lives – and pop culture – will never be the same.
The brand was inspired by Kenny Howard, known as Von Dutch, an American artist and member of the Kustom Kulture movement, which was based on the hot rod culture of the 1960s. He was a controversial figure who was a self-admitted admirer of the Third Reich.
'The 1619 Project' Docuseries From Lionsgate, Oprah Winfrey & Pulitzer Prize Winner Nikole Hannah-Jones Lands At Hulu
The story gets weirder, though, after Howard's daughter sold the Von Dutch name to Michael Cassel and Robert Vaughn after Howard's death in 1992, and it attracted the attention of a slew of celebrities including Pamela Anderson, Jay-Z and the stars of the Fast & Furious franchise. Stores were opened, including one on Melrose Avenue, and there was plenty of infighting between the owners before the brand would fall into oblivion and eventually be sold to a European shoe distributor. Kylie Jenner tried to make it cool again in 2016, and it has been trying to make a comeback since.
IPC's Eli Holzman and Aaron Saidman, Sheila Conlin and Andrew Renzi are executive producing, with Renzi directing.
The series, which will air later this year, joins Hulu's growing slate of pop-culture docs following Fyre Fraud, Kid 90 and Hillary as well as upcoming titles such as WeWork: Or The Making and Breaking of a $47 Billion Unicorn and Sasquatch.
Fremantle is handling international sales. The company's VP Acquisitions Harry Gamsu said, "The story of iconic fashion brand Von Dutch is a modern day Shakespearian tragedy all told through the fabulous lens of double denim, trucker caps and noughties nostalgia. We are thrilled to be partnering with IPC and Hulu to bring this this stranger than fiction story to global audiences."
Posted: December 10, 2021
"The Curse of Von Dutch"
"the true story behind the apparel company… is stranger than fiction." – Shannon Carlin, US Weekly
"If you thought the brand's rhinestone jeans and logo T-shirts were over the top, just wait until you meet its main players." – Christian Allaire, 
Vogue
Press Highlights
Posted: December 10, 2021
The Male Standard
Sheila Conlin, of The Conlin Company, on Integrity, Male Grooming, and Her Incredible Evolution in Reality TV!
"Even in my business, I have to keep reinventing to stay on top, stay on top of the trends, keep current. I'm always asking myself, what's the next thing? How do I keep it going? If you're a performer or an athlete, it's you. That's all you have. It's your body. It's your dance moves, your singing voice, your look, your stamina, your speed, and you've got to prove it 24/7." Read more
Posted: September 5, 2013
Realscreen:
Arthur Smith's recurring "Kitchen Nightmares"
By: Kelly Anderson
Posted: Friday, October 26, 2012
Ahead of tonight's fifth season premiere of Fox's Kitchen Nightmares in the States, Arthur Smith (pictured), CEO of A. Smith & Co., talks to realscreen about the challenges of his show. Read more
The Examiner:
'Hotel Hell' earns second season, Season 1 concludes tonight
By: K.L. Martinez
Posted: Monday, September 3, 2012
…"Hotel Hell" premiered on Aug. 13 and will conclude its six-episode inaugural season tonight with back-to-back episodes that will focus on the River Rock Inn in Milford, Penn., and the Roosevelt Inn in Coeur D'Alene, Idaho.
Ramsay is now the star of three successful reality shows on Fox—"Hotel Hell," "Hell's Kitchen" and "Kitchen Nightmares"—and is the head judge on "MasterChef." All four series has been renewed for another season except "Hell's Kitchen," which will continue for at least another two….  Read more
The Hollywood Reporter:
TV Ratings: 'Hotel Hell' Tops 'Stars Earn Stripes,' 'Grimm' Boosted in Monday Move
By: Michael O'Connell
Posted: Tuesday, August 14, 2012
…After two weeks of unstoppable Olympic momentum, NBC ceded its ratings crown to Fox on Monday night. With the premiere of Gordon Ramsay's Hotel Hell and the return of original broadcasts of Hell's Kitchen, Fox averaged a 2.3 rating among adults 18-49 and 5.8 million viewers for the night.
Hotel Hell, which earned a 1.9 adults rating at 8 p.m., ranks as the highest rated new broadcast series of the summer among adults 18-49 — though that distinction carries little weight this year. Hell's Kitchen topped all other programs during the night. It was up a tenth of a point from it's last original, posting a 2.7 adults rating…  Read more
The Hollywood Reporter:
Hotel Hell: TV Review
By: Allison Keene
Posted: Friday, August 10, 2012
The Bottom Line:  Celebrity chef Gordon Ramsay brings his trademark fury and perfectionism to subpar American Hotels and inns, with satisfying results. Read more
Variety:
Review – Hotel Hell
By: Brian Lowry
Posted: Thursday, August 9, 2012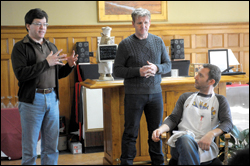 Gordon Ramsay, center, in "Hotel Hell"
Produced by One Potato Two Potato. Executive producers, Gordon Ramsay, Ben Adler, Patricia Llewellyn, Adeline Ramage Rooney; co-executive producers, Jonathan Chinn, Jay Hunter; supervising producers, Pip Wells, Ryan Simpkins; producer, Sheila Conlin; senior story producer, Max Poris; music, Jeff Lippencott, Mark T. Williams. 60 MIN.
With: Gordon Ramsay.
Chef Gordon Ramsay has elevated his food-throwing tantrums into a kind of performance art, yielding expletive-laden outbursts as impolite as they are perfectly tailored to reality TV. So perhaps it's no wonder Fox is seeking to expand his niche to fixing other aspects of the service/hospitality industry via "Hotel Hell," an overproduced showcase for the hotheaded host, who sets his sights, Bravo-style, on makeovers of under-performing hotels and inns. It's not bad, as inexpensive summer filler goes, but by spreading its premiere across two parts, the show makes like a boorish guest and overstays its welcome. Read more
Check out this article about Sheila Conlin's panel at the Nashville Screenwriting Conference 2012!
Variety:
"Music city meets reality"
By:  Steve Cohen
Posted:  Friday, June 1, 2012
…In a panel called "The Reality of Reality Television: What Works and Why," four non-fiction TV veterans will review the ins and outs of working in the medium.
But wait a second: Isn't reality TV, by definition, unscripted?
Yes and no, says panelist Sheila Conlin, the veteran television producer whose credits include the upcoming Fox reality show, "Take Me Out."
"As far as people writing pages every day for people to say, that's not happening," Conlin says. "We're not writing scripts. But the overall show has a structure."
And, as with features and scripted television, that narrative structure doesn't happen by accident. "The writing is definitely happening in setting the outline and then guiding it," Conlin says. The producers (they're not called writers) "create the show, develop the show, and then lay out the structure of the show. We do follow an outline."… Read more
The Hollywood Reporter:
"Why Gordon Ramsay's 'Hell's Kitchen' Is Still Hot After All These Years"
By:  Gary Baum
 Posted:  May 28, 2012 
…Fox's alternative programming boss, Mike Darnell, was interested in bringing the program to America. "What he liked about the show was the heat of the kitchen, the pressure atmosphere and the title — he always loved that — as well as Gordon as the central figure," says Paul Jackson, a former ITV executive who helped sell the show to the network. But Darnell would only buy Kitchen if the stripping format was dumped (2003's I'm a Celebrity … Get Me Out of Here!, also from ITV and likewise stripped, had fared poorly on ABC) and the fame element similarly excised.
"I didn't want celebrities," says Darnell. "I wanted what they call 'punters.' " This news went over just fine with Ramsay, explains Kitchen casting director Sheila Conlin: "He wants people who are passionate about cooking, for whom this is their true calling. Iron Chef has the masters. Top Chef is the middle ground. Then you have Hell's Kitchen, which are really the worker bees — the line cooks, the prep cooks."… Read more 
The Hollywood Reporter:
"Fox Renews Gordon Ramsay's 'Hell's Kitchen' for Two More Seasons"
By:  Michael O'Connell
 Posted:  April 12, 2012 
Fox and Gordon Ramsay's courtship shows no signs of slowing. The network said Thursday that the British chef's original U.S. series, Hell's Kitchen, has received a pickup for an additional two seasons.  Read more
Dr. Phil
"I always can spot the perfect reality TV contestant. I can see either a spark or uniqueness," Sheila says. "I can see right through anyone who's phony. Everyone always thinks that there are these characters, and then we have to look for these types. I don't sit there and go, 'I'm going to find the villian. I'm going to find the bitch.' All the casting requirements are specifics. Maybe it's a certain age group. Maybe it's a certain hair color. Maybe they can be married or they can be single. It depends on the show."
Sheila says casting for a television show can be an arduous task. "In a final cast of 10 people, I usually see 2,000 to 3,000 people," she reveals. "The process for getting on a reality TV show is very simple. The chances of actually making it on the show is actually one in a million."
When the videotape ends, Dr. Phil turns to Sheila. "OK, the odds are long," he muses.
"Yeah, the odds are really long, especially since reality is so popular right now," Sheila replies. Read more
The Conlin Company in the press
'Beauty' to follow 'Bachelor' on ABC
Reality show set to premiere on January 5, 2009
By MICHAEL SCHNEIDER
ABC has firmed up its winter plans for Monday night, starting with the return of "The Bachelor."
Alphabet net will preem a two-hour edition of "The Bachelor" on Monday, Jan. 5, followed by the launch of "True Beauty" — the formerly untitled reality competish from Tyra Banks and Ashton Kutcher.
The following week, "The Bachelor" will shrink down to its normal 90-minute frame, leaving room for "Samantha Who?" in its regular 9:30 p.m. slot. "True Beauty" continues at 10.
"The Bachelor" fills the void left by "Dancing With the Stars," which returns in the spring. "True Beauty," meanwhile, takes over for "Boston Legal," which finishes off its series run later this fall.
Next "Bachelor" reps the 13th edition of the romantic reality skein; Jason Mesnick, who was turned down by DeAnna Pappas in the season finale of the last "The Bachelorette," will star as the new Bachelor.
Meanwhile, the Alphabet has kept details of "True Beauty" under wraps. But the show, from Warner Horizon, Bankable Prods. and Katalyst, revolves around people who live in a house together and compete in a beauty pageant.
St. Petersburg Times
By Eric Deggans, Times TV/media critic
In print: Tuesday, December 23, 2008
ADVERTISEMENT
It sounds a little like an old joke: A salesman from Tampa walks into a Miami bar with friends, hoping to have a little fun.
Even now, Joel Rush admits that when a woman came up to him in that bar, claiming to be a casting agent for a new reality show on ABC, he reacted like it was a joke – buying her a drink and thanking her for the funny story.
But then he noticed the line of people crowded around. The casting agent explained that Rush seemed perfect for a new unscripted "reality TV" show the network was developing on beautiful people.
Six months later, Rush is planning a quick exit from his sales job at Pegasus Imaging in Tampa, calling news outlets and readying a move to Los Angeles following his role on True Beauty – a new reality competition show developed by actor/entrepreneur Ashton Kutcher and model/mogul Tyra Banks.
"It truly was a fluke," said Rush, 27. "But if there was one word I would use to describe the experience, it would be, extremely rewarding. And anything that Tyra Banks and Ashton Kutcher are involved with is going to be amazing."
Rush eventually spent six weeks in Los Angeles around October, hanging with nine other beautiful people, host/judge Vanessa Minnilo (TRL, Entertainment Tonight), sixtysomething supermodel and judge Cheryl Tiegs and judg//fashion consultant Nole Marin (America's Next Top Model). The contestants were given one outer beauty challenge and one inner beauty challenge for each episode – their behavior captured by hidden cameras and evaluated by the judges.
Only after a contestant was eliminated was the truth of the competition revealed to them. The prize at stake: $100,000 and a spot in People magazine's 100 most beautiful people issue.
Rush describes a production unfolding like a mishmash of existing reality shows — a bit of MTV's The Real World here, a little of Banks' America's Next Top Model there, with a dash of Kutcher's signature prank show Punk'd. And contestants had no clue of the show's true endgame until they were ejected from the contest.
"The only surprise for me, was that there was no such thing as downtime," he said. "You are on camera from the moment you wake up until you go to sleep – up to them following you into the bathroom. It's an experience you can't train yourself for. You have to have some amount of inner beauty to not have it eat you up."
An Indiana native, Rush moved to Florida six years ago after college, chasing opportunity. As True Beauty airs its eight-episode season in early 2009, he'll be chasing it again in Los Angeles, trying to further his modeling and acting career on the connections he's made doing the show.
Since the show debuts Jan. 5, Rush hasn't seen any episodes. But he is uncomfortable about material on ABC's Web site depicting him as a cocky jerk who: "already acts like a celebrity so it is only a matter of time before he is truly famous"; "knows he looks good and insists on surrounding himself with only the hottest people"; calls himself the "Crown Prince of Cool"; and "says his workout regimen is all about looking great naked."
Of course, that doesn't mean he didn't play to win the game: "I told everybody – if you didn't come here expecting to win and send me home, shame on you, not shame on me," he said. "You're in the top 10 of all these people who auditioned, you're working with Tyra and working with Ashton. If you can't make something out of that, that's your problem." Read more